"Everyone's Choice for Quality Home Inspections" | 614.592.8884
OHIO LICENSE OHI.2019005895 | More info click or touch here
The decision to sell or purchase a home is an important decision, and how better to proceed than with accurate and reliable information about the property in question. All Glenn Home Inspections, Ltd inspections evaluate all interior and exterior components and systems including the roof, basement, heating, cooling, ventilation, insulation, plumbing, structure, electrical, and the lot.
Pre-List Inspection
(614) 592-8884
Pre-Purchase Inspection
Additional services: Termite Inspection | Radon Inspection| Gas Line Inspection | Well Inspection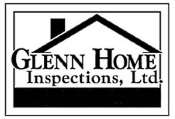 All cost are subject to change without notice and also subject to size and square footage of each inspected home.
(614) 592-8884
Designed for homeowners to provide buyers and realtors with accurate information.
$ 299.00 and up
Designed for buyers who require a full inspection of a home's components and major systems.
$ 299.00 and up
(614) 592-8884
(614) 592-8884



We proudly meet the American Society of Home Inspector's high standards.
"Glenn Home Inspections did an outstanding job of showing and explaining to me their various findings and observations. I will refer Gary Glenn to any of my friends who are in the market for a Home Inspection. Thank you Gary!!"
Evelyn, Realtor, Westerville, Ohio
"We need more companies like Glenn One Home Inspections that provide services like this, that care about clients and that are professional on the job. Thank you for your services."
Vincent W., Pickerington, Ohio
"The inspection team was very helpful and answered all our questions. I really liked the spent with extra minutes going over everything regarding the inspection results us. The inspection team at Glenn Home Inspections are friendly and truly wonderful to work with."
Lisa R., Reynoldsburg, Ohio
"Jack was very accommodating and very thorough. I appreciated Integrity Glenn Home Inspections' willingness to go out of their way to help the client. I will certainly request their services again and refer them to other Realtors when possible."
Julie, Realtor, Gahanna, Ohio
"Glenn Home Inspections did a great job of showing their findings and conclusions. If you're looking for a home inspector, Glenn Home Inspections is it!"
Ken, Realtor, New Albany, Ohio
"Reemus Bradley was very professional. I will be recommending the services of Glenn Home Inspections to every other realtor and home seller in my area."
Mike, Realtor, Columbus, Ohio
"This complete home inspection gave me the change to really understand what was happening in my home. It's invaluable and I would absolutely recommend it to anyone whether they're selling, buying or just interest in how to best protect their investment."
Marian, Canal Winchester, Ohio
A Few Questions & Answers!
OHIO LICENSE OHI.2019005895 | More info click or touch here